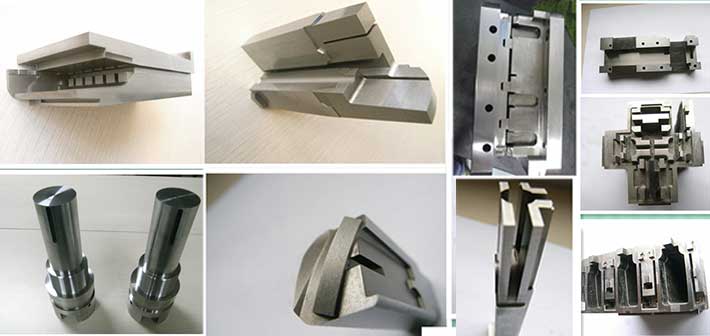 MBA Mold Components: Focusing on the Precision and the Seamless Fit with Mold
MBA can provide customers with high precision mold components according to precise requirements of customers, including core, insert, insert core, slide, guide bush, active core module, locating pillar, safety strap, SKH-51 and SKH-61 serial ejector sleeve, ejector pin and sprue puller, widely used in plastic mold, automobile mold, medical mold, semiconductor mold and automation industry, seamlessly fitted with customers' mold, so manufacturing cost and cycle can be greatly saved.
MBA focuses on manufacturing mold components with complex shapes and requirements of high precision. Due to complex shape and rich details, high precision is required. Even at the micro level, MBA can guarantee absolute accuracy: ±0.001μm~±0.005μm. In the past, we mainly engaged in EDM and linear cutting. However, if these traditional methods are used in particularly hard materials, the accuracy will be reduced by the cracks caused by discharge. In order to achieve lasting durability, MBA uses high-precision machining, such as milling, even if it takes longer and is more expensive. A kind of particularly complex mold component is with rounded cusp which needs great technical knowledge. Each of our technicians has technical specifications and equipment required. MBA has established a high reputation among our customers in complex components.
According to the export mold standard like European and American standard, MBA can process mold components well according to customer's drawing. MBA engineers will also assist clients to assemble components.
MBA mold components design provides the thermal uniformity which is necessary for all thermoplastic resin precision molding; thermal distribution of insulation or hot runner can be selected, and optimum efficiency can be obtained by selecting the corresponding system.
1. Precise dimensions. All mold components are machined, by combining with CNC turning and precision grinding to reduce the size tolerance. Before shipment, using 3D coordinate measurement so that each component will undergo a strict final inspection.
2. High-quality raw materials. All standard components are processed into a hardness of 54-56RC from AISI H13 tool steel. Additional grades of tool steel and special coatings can also be provided to meet the special requirements of glass and mineral filled resins.
3. The best Heat Profile. All components are in thermal coordination with the processing environment. All mold components are designed considering the temperature uniformity in the manufacturing process, and they will be tested in the actual mold environment to meet our stringent standards.
After receiving orders, we will decide the right procedure. According to 3D data or drawings of products, MBA will select technical personnel and processing methods, consider technical requirements such as dimensional tolerances and optimize manufacturing conditions.
MBA provides the highest accuracy and quality for our customers and keeps the promised delivery date.