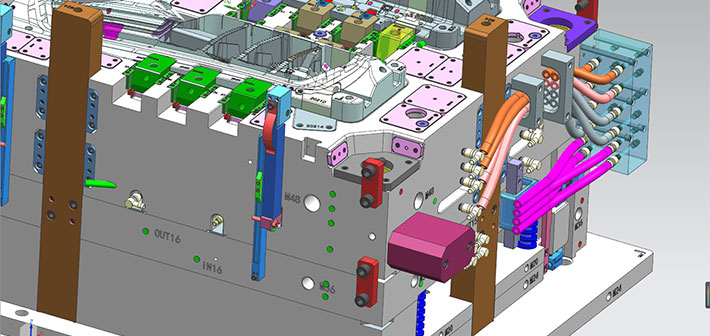 MBA is a company that specializes in mold design. Our power can be used to help you solve urgent, difficult and multiple mold engineering design problems and manufacturing problems, and help your company win orders and market. Through the use of advanced tools and softwares like UG, PROE, AUTOCAD and Solid Works to design every detail of mold, including appearance, function and manufacturing efficiency. Whichever you provide, 2D drawings, 3D drawings, physical objects, photographs, renderings or concepts, we can create a set of molds for you. We serve you with innovative ideas, progressive design techniques and timely communication.
MBA Design Philosophy
MBA tries to achieve "the first time right design", avoiding costly after-sales solutions to reduce costs and speed up delivery. The quality starts with the precise design, so design is crucial for a set of mold. We have more than 30 years of design experience and will never compromise to perfection, even if it's just a small component design.
MBA mold design department is an independent, full-service design and development studio offering advanced and innovative mold design. Whether it is to inject creativity into current projects or to introduce new products, MBA mold design can always offer excellent solutions.
MBA experienced designers will save you thousands of dollars by eliminating quality problems and long delivery period. With more than 30 years of experience in design, our skilled designers have realized how to provide designs that can facilitate the quality of molds. For customers, this means that we provide and support all aspects during design process based on their specific requirements. Each customer has a unique list of requirements, and the goal of MBA is to consistently meet or exceed the requirements of mold design.
We have an experienced mold design team, familiar with various mold design standards of Europe, America and Japan. MBA design team consists of many senior mold designers and professional mold flow analysts, using UG4.0, UG6.0, PROE3.0, AUTOCAD, SolidWorks; MOLDFLOW to do 2D/3D mold design and mold flow analysis. MBA has a set of mature mold design and development process. For example, when designing car mold, UG6.0 3D will be used to make sure the 3D effects of every aspect, including ejector pins, screws, water line and etc. On that occasion, customers are clear about their molds because they can see the specific real situation, thus design drawings on mold structure and processing technology becomes simple and easy and mold manufacturing time and cost can be saved greatly. In terms of molding, with years of design experience, our professional mold flow analysts will do analysis on plastic injection, air trap, weld line, cooling and distortion of design scheme to make sure the success rate of mold testing and to reduce test times; so as to reduce mold cost.
Mold Design Process
Mold project review meeting→ Pressure mold flow analysis→ Mold structure design→ Antenatal meeting
Design Considerations for Injection Mold Include
● Draft Features: We understand how angled surfaces can help or hinder efficient removal of your part from the mold.
● Wall Thickness: We can control uniform wall thickness to prevent uneven shrinking, wall intersection sinking, and more.
● Radii and Corners Integrity: We incorporate the proper geometry to ensure uniform wall thickness at curves and corners.
● Ribs: We implement precise rib dimensions to reduce shrinkage and also reduce mold fill time while still providing process and handling integrity.
● Weld Lines: Our understanding of how to control these important intersections to eliminate cracks and stress fracture.
● Flashless Requirements: We can design and implement vacuum-assisted molding techniques that produce flashless.
● Runnerless Molding: We can design mold solutions that produce runnerless parts through a molding process that improves quality, eliminates material waste and defects, and reduces cost.
MBA design combines aesthetics, function and manufacturing assembly efficiency to make a win-win mold design solution. According to your rough or detailed drawings, we will take into account your requirements for mold use, special specifications and budget to make a design solution. Whether you want a complete design or an improved one, we can do both. Because our design team can complete design job independently as well as cooperate with your engineers to improve the function and manufacturing convenience of the existing mold design.
The Services MBA Offers Include
● CAD Design or Modification of your Product or Tooling
● CAD 2-D and 3-D modeling
● Prototype Tooling and modeling
● Materials Selection
● Mold Flow Analysis
● DoE's (design of experiments)
● Production Tooling
● Mold and Process Validation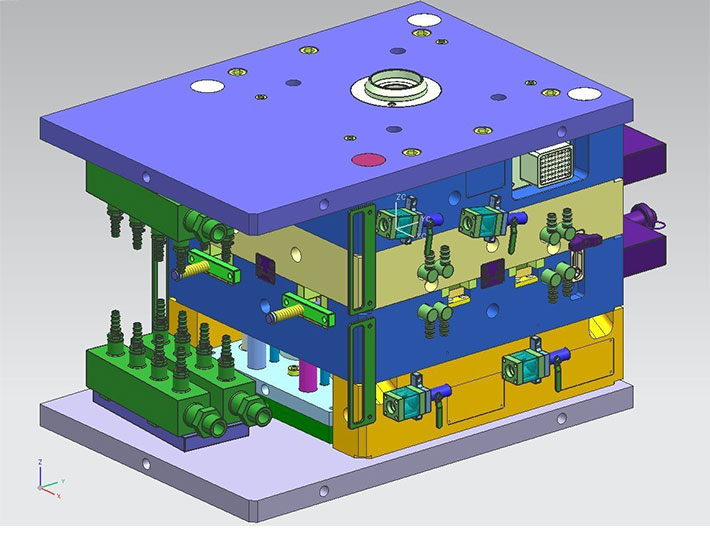 MBA CAD diagnosis can analyze the flow of parts and molds from core to external outlet.
Because MBA DFM analysis is done before the start of manufacturing cycle, we can help you avoid costly production lines errors and downtime by identifying problem areas which need to be modified.
SolidWorks 3D CAD is a design application that allows users to quickly convert concepts into 3D parts. Powerful toolset, virtual prototyping, and rapidly generated manufacturing drawings help designers create cost-effective molds in the real-world manufacturing environment.
SimpoeWorks is a complete plastic injection simulation solution embedded in SolidWorks's graphical user environment. It provides an excellent integration of parts design, mold flow analysis and mold design. By using Simpoeworks, we can simulate injection molding process, optimize molding parameters, and identify potential tools and mold problems in the early design stage.
R&B MoldWorks is a first-rate 3D mold design application to provide innovative, visual and intelligent design tools for injection molding industry which integrates seamlessly into SolidWorks. It combines pre-set mold components to reduce mold design time. We can use CAM (computer-aided manufacturing) in a near-paperless environment by using parametric 3D CAD mold design. Our PDM (product data management) system ensures that incoming and outputting files are tracked and managed. We use our ECN (engineering change notification) system to control and validate design modifications.
Our internal rapid prototyping FDM machine enables our customers to have a physical plastic sample before mold manufacturing, so that customers can understand manufacturing feasibility, function and performance better.
We will check your CAD files and drawings to make sure if there are any quality problems. In the end, we will do detailed mold flow analysis so that we can predict potential manufacturing defects and problems before manufacturing.
If your mold is still in the conceptual phase, give us your ideas , the requirements of function and appearance, our engineers will give you the most optimal solution and suggest the most appropriate materials to help you always get ahead in the market.