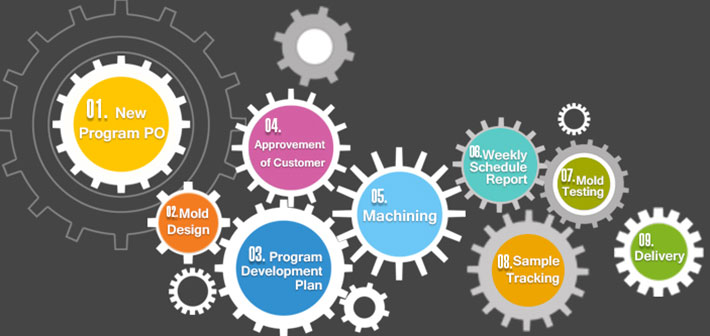 PM Overview
MBA project management can be summarized as: in the design and implementation stages of projects, MBA uses systematic procedure and method to do effective planning, decision-making, organization, coordination and control according to customers' quality requirements, time limit and technical specifications. According to the signed contract documents, MBA shall track, control and manage quality, progress, cost, problems and other objectives of the project from order receiving to delivery.
During the whole manufacture process of mold, it's probably not enough if you just have a cooperation factory in China. It may be a difficult process how to efficiently master manufacture schedule, communicate and solve new problems at any time. As a real extension of your company, through our PM, MBA eliminates worry and risk by adopting scientific and systematic approaches. We will make a detailed schedule for each stage to focus on every detail and to make your mold manufacturing easy. In collaboration with MBA PM, you would no longer be limited to a traditional cooperation way, instead, you will have opportunities to cooperate with more competitive and efficient factories, because MBA would do market researches to choose the most suitable factory for you to save your cost, however, you even needn't come to China for special guidance as MBA is your local eyes.
MBA PM
Aim to provide you with flawless project tracking management to find the best way for you.
PM Organization
Project Manager---Market research group, Mold expert group, Administrative group
How does MBA Manage a Project?
We assign a multi-function tracking team and a project manager to all our customers' projects. Project managers report to MBA's seniors, manage all factory activities and communication with customers, understand customers' needs comprehensively and make plans in advance. Project management reports follow a variety of customer specific formats, including a weekly-update project progress report. Collaboration is throughout the whole process and MBA would focus on project progress and changes. From the beginning of a project, the project manager is assigned, as a bridge, responsible for communicating and solving problems existing in manufacturing, pointing out the main change points and having seminar in time. Weekly conference calls are also a common way to communicate.
MBA Particular PM Process: Monitor and Assist Your Factories All the Way to Ensure Your Delivery
1.Order receiving and draft related documents
2.Feasibility study and machine capacity analysis
3.Cost reduction assessment
4.Design assignment
5.Customer approval
6.Project investigation; contact with factories
7.Design reviews; avoid problems
8.Supervise manufacturing; help solve problems
9.Report to clients regularly
10.Feedback test results
As an Extension of Your Company, We Have Been Studying and Proposing Improved Methods
● More efficient solutions to difficult problems
● More timely and clearer communication and problem feedback
● Improve manufacturing efficiency, meet or even save your delivery
● Reduce waste and raise each unit cost ratio